Sports news straight to your face!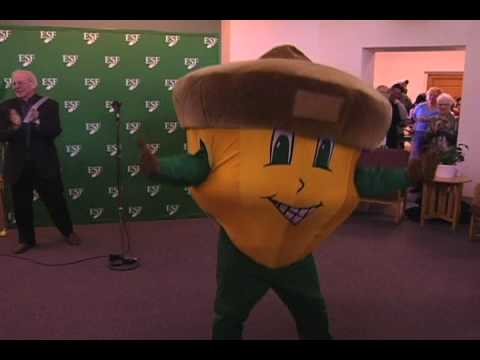 To end the NCAA football season, The Auburn Tigers and the Oregon Ducks will face off to decide the champion. The Oregon Ducks, featuring the least threatening mascot in the NCAA aside from
Oakie the SUNY-ESF Acorn
, will have a good shot at winning provided the NCAA doesn't test for psychedelic drugs.
The Real World Cup
FIFA's World Cup ended in July. In November, the void was filled when New York City saw the Quidditch World Cup storming the proverbial castle. The proceedings began with a parade and ended when, after 14 seconds, every single player had an asthma attack.
World Series
The San Francisco Giants made a playoff game for the first time in over 40 years and managed to defeat the dangerous Cliff Lee. Yet ESPN still couldn't help from talking about the Yankees and whether or not they were going to acquire Cliff Lee. ESPN always has their priorities straight.
Huskies Rolling
Since 2008 no one has beaten the female Huskies. The NCAA is confused as to how any women's team could actually be this good (especially since they beat the previous record set by the UCLA men's team). To prove to the world that women are not better than men at anything (especially not sports) the NCAA will be swapping UConn teams; that is, the women will replace the men's team for the remainder of the season and vice versa.
Sexy Rexy
Rex Ryan dressed up like an obese woman in 2010 to make fun of his twin brother, Rob Ryan, who apparently looks like an overweight transvestite. Their rivalry spans across years and years of making fun of each other from games of whiffle ball, to rolling around on the floor of their college dorm-room together in addition to the football contests. Just when you thought the NFL couldn't get any gayer…
Favre's "Number"
This semester, and the past 50 semesters, it has been difficult to go a day without hearing about Brett Favre and, most recently, his penis. Many no longer respect him because of his failing talents and because his Wrangler jeans let Little Number 4 out to play with Jets reporter Jenn Sterger. Despite the setback, Favre has no plans to retire his penis.
The Cowboys Suck
The Dallas Cowboys spent billions of dollars on their new stadium for a Super Bowl that they are not going to get to play in. The good news is, they can all see the 25,000 square-foot screen in Cowboys Stadium from their mansions. So I'm sure they'll sleep just fine, on beds of money.
Free Agents
Lebron went to the Heat. Cliff Lee went to the Phillies. Derek Jeter was a free agent for a few panic-filled days, then ended up back at the Yankees. Nobody gives a shit, other than a few angry Cavs fans who are really just jealous that they never got closure. Said one fan with tears streaming down his cheeks, "I can change, Lebron! Give me another chance!"
Knicks?!
For all you New Yorkers out there, it has been ten years and we have all been waiting for it…this semester the Knicks finally won a game! No, this is not ESPN Classic. Amare Stoudemire is a baller and thanks to his super-powered gangster-ass goggles he is able to win games for the Knicks with a little help from some Calamari guy from Italy. And guess what…no Lebron necessary.