When the ladies of Disney were actually alive, a college degree was superfluous. I'm using the word superfluous because, unlike Ariel, I didn't get married to a prince at 16 and I'm going to need to know big words to get a job. It's not like I want to be a gold-digging, amphibious ho– but I'm just a little bitter.
Now, Campus Basement presents: The women of Disney University, in their respective social circles.
Jasmine: The Daddy's Girl
Ah, Jasmine. The JAP of the Disney Princesses, even if she is from the definitely-not-Jewish and sunscreen-not-optional city of Agrabah. Today, she would be renting her own hip apartment (Daddy would pay for it), since college dorms do not allow Tigers
as pets. I know – I checked. Jasmine drives a BMW convertible – she totaled her first one, but her Dad got her another, anyway.
She's a Communications major, so she spends most of her time in the library. And by the "library" I mean "the local flea market where she scouts deals on genie pants and bats her lashes at sexy indie vagrants". She often wonders if she should leave her life of luxury and bone the hot guy in the market who doesn't believe in college.
But then her Dad sends her another credit card or pair of unrealistically heavy earrings or an evil advisor and she forgets about it.
Aurora: The Druggie
I know, you're shocked. But think about it. Pricking herself
with needles? Sleeping for ridiculously long periods of time? Chillin' with three tiny, obese fairies? This bitch would be the queen of the druggies in College. Her room would always smell funny, and she would always be late to class on account of "sleeping through her alarm". Yeah, we get it, Sleeping Beauty.
You probably love the band Phish and have a black light in your room.
Snow White: The Vegan
Living with seven normal-sized people would reduce waste (apartment-dwelling, meat-buying Jasmine should take note). Snow White, however, chose to be even greener by living with seven midgets. Or dwarves, whatever. Dwarves who mine for their own resources! Dwarves who go by weird, Indian names like Sleepy and Sneezy! Dwarves who also secretly wish Snow White would take them out of the goddamn friend zone and into the bone zone!
But I digress. Snow White takes an apple from a homeless, hideous witch because she believes in helping others and saving the world, all while being meat-free. Snow White would definitely be asking for Green Peace signatures on environmentally-friendly non-paper, wearing a hemp dress.
Mulan: LGBT Poster Girl
She dresses like a dude. She fights well. She has a talking pet lizard. All of these make her the perfect candidate for The Cherry Pit or Curtains or Another Suggestive Lesbian Bar's
most popular patron. She probably invites everyone in her hall over for Ru Paul's Drag Race parties, where she might accidentally hook up with the leader of the Chinese Army Culture Club. She'll think he's a super convincing cross dresser.
Belle: Queen of the Nerds
Obsessed with books and probably majoring in something like Zoology (she loves beasts), Belle is the classic lowkey hottie. By day, she's talking to furniture or plateware, wearing
some figure-hiding hand-me-down. But after her friends throw her in some low-cut, yellow number? Welcome to Bonerville, population: every male Engineering student. Yeah, they'll listen to her talk all about her inventor dad and her obsession with singing Candelabras – but only because they are imagining her naked.
Ariel: The Slut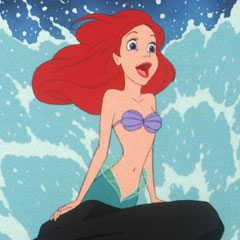 Okay, so you live in some ocean by some white, European Prince – definitely north of the Equator. But the water is sooooooo hot that you have to wear a shell bikini instead of a seaweed sweater? Yeah, this fire crotch is a ho. Wait a minute.. can she be a fire crotch if she has no actual, um, crotch? HOW DID SHE HAVE A BABY IN THE SEQUEL? HOW DOES SHE PEE IN THE OCEAN? WHAT DOES IT ALL MEAN?
Ariel would probably go to a party, guzzle some jungle juice and make out with some school athlete before you could even say "does that bitch have a tail???!" But be careful guys: this lil' hottie has got crabs. Well, a crab. Singular. But that isn't setting a good precedent, now is it?
Cinderella: The Disgruntled Sorority Sistah
Cinderella clearly would rush Kappa Kappa Gamma (that's a thing, right?), only to discover that all the other new ladies were but-her-faces at best.
Plus, they totes would try to borrow her trendy glass slippers even though they all know that those shoes won't fit. What biyatches. Cinderella would probably take a couple Xanax before her big formal, hoping to meet the perfect Frat President. Once those babies kicked in at midnight, Cinderella would wake up the next morning with no recollection of what happened. She got so messed up she lost a shoe! LOL, What funny Facebook pictures!
Ah, what memories college would have brought to these lovely ladies. Instead they all got married at the legal age of consent (hopefully), and lived happily ever after without ever experiencing a discussion section, or eating unidentified meat in a dining hall, or getting felt up at a Frat House.
I guess you win some, you lose some.
Author's Note:
So I'm leaving out Esmeralda (gypsies don't go to school), Nala (lions don't go to school), and Tiana (too new school). Bonus points if you know who Tiana is.